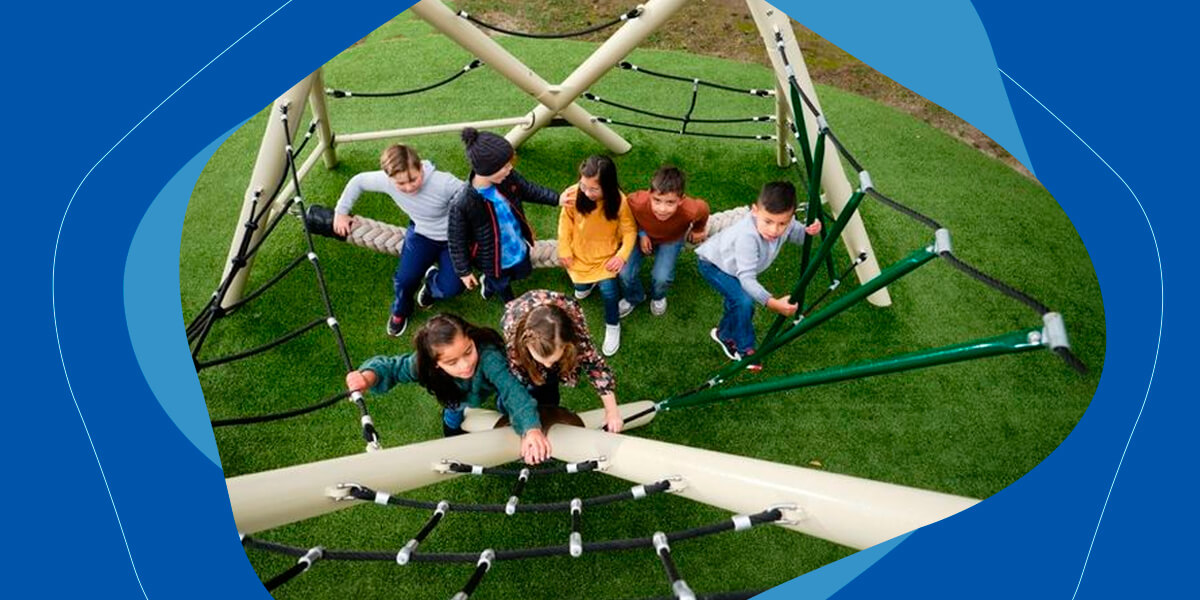 Playgrounds allow kids to get rid of their excess energy, have fun with friends and learn more about the world around them. Playgrounds have several benefits for children, including encouraging their creativity, helping them learn new skills and promoting positive social interaction.
You must evaluate various points when creating an inclusive playground, including who will use it, what equipment you should install and how you will maintain it. These important playground design considerations can help guide you when designing and installing a playground for kids and adults of all ages enjoy.
Below, we explore several tips for designing, installing and maintaining a playground to help you create a fun and accessible space for your community.
1. Define Your Playground Objectives
Before you can start designing your playground, you need to understand who will be using it, what you want kids to get out of it and what amenities are needed for the play area.
Designing a playground for a public park may require different amenities and equipment compared to an elementary school playground. Understanding who will use the playground and why can help you design a functional and beautiful space for kids and families to enjoy.
Some important questions to ask yourself and your team before you start designing include:
How many children will be using the playground at one time?
Will children of different ages and abilities be using the playground?
What amenities are needed for the playground? Do you need to include seating, informational signs, fencing and bathrooms?
Who will be using the park? Is it a public or private commercial playground?
Are you going to add outdoor exercise equipment for adults?
Will you use standard colors or design the playground around a theme?
How big will the playground be?
How will you make the playground accessible and inclusive?
What is your budget for the playground?
2. Analyze the Playground Site
While reviewing the playground site, look at the natural and artificial elements in and around the area. There may be amenities such as bathrooms and water fountains nearby that you can utilize instead of building your own. You can also incorporate natural elements such as flowers, trees and rocks into your design. Using existing features rather can make designing and installing a playground easier and more cost-effective.
Spend a few days monitoring the weather and the area experiences. Is there a lot of sun during the day? Where will you need to add shade to make the playground more comfortable to play in? Are there spots that would benefit from windshields? You can research the weather in different seasons to guide your choice of playground equipment and amenities.
Other site conditions to evaluate include drainage and slope angles, soil conditions and the playground's vicinity to roads and nearby amenities.
3. Design Your Playground
Once you know your most essential playground considerations, you can get started on the design. Here are eight aspects to consider when designing a playground:
Safety: Playgrounds need to be safe. Ensure you have internal fences that prevent children from climbing and tripping hazards. Perimeter fences are necessary to keep kids away from external dangers and can provide a level of privacy.
Surfacing: Most injuries on a playground occur when children fall from equipment. It is essential to choose the proper playground safety surfacing to help prevent injuries.
Amenities: Playgrounds need more than just playground equipment. Remember to include amenities like seating, trashcans, signage, tables, water fountains, shade and bathrooms as needed. Think about what features will make the playground more comfortable for children and their caretakers.
Theme: Playground aesthetics are important for helping kids stretch their imaginations and develop a sense of community and space. Choose a theme, color scheme and other design elements to match your community or the location of the playground, whether it be a school or a place of worship.
Zones: Try creating zones for different types of play like physical, imaginative, cooperative and sensory play. You can also build separate sections with varying difficulty levels for kids of different age groups or skill levels. The type and number of zones you have will depend on who will use the playground.
Accessibility: Make sure to include adequate pathways and access points for children and adults to get around the playground. Consider the flow of the space and how children move so that different play structures and zones can be reached easily and quickly. Ensure your playground is inclusive by including accessibility features and equipment for children and caregivers with disabilities.
Equipment: The biggest part of designing your playground is choosing the right equipment. Carefully select play structures that can withstand children and exposure to the elements. Use equipment that meets local and national playground safety requirements. Add inclusive and multigenerational equipment so kids of all ages and abilities can enjoy the playground.
Surprises: Look for ways to add unique and fun elements to a playground that kids can discover as they play. This may include using bright colors and odd shapes, hidden artwork and secret hideaway spaces kids can use as part of their games.
When designing a playground, remember to look at your project from a child's point of view, too. Children see the world differently from adults and have active imaginations. When choosing equipment, setting up zones or considering a theme, think about what children might enjoy the most.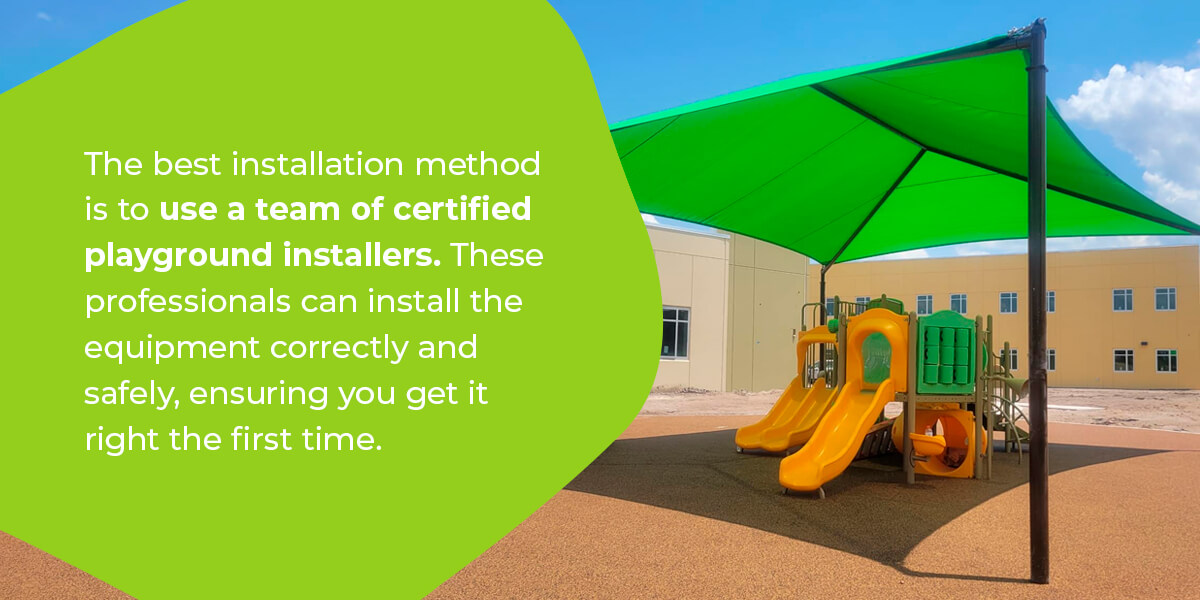 4. Install the Playground
The best installation method is to use a team of certified playground installers. These professionals can install the equipment correctly and safely, ensuring you get it right the first time. After the installation process, schedule an inspection with an audit-certified playground safety inspector. They will check that the equipment is correctly installed and safe to use.
5. Maintain Your Playground
Maintaining a playground goes beyond cleaning it. Cleaning up trash and other debris keeps playgrounds safe and appealing. However, it is also important to create a proper maintenance schedule. Even the most durable equipment can wear down over time.
Implement a maintenance plan that involves looking for loose, missing or worn parts that may become a hazard. Replace or repair any parts as soon as possible to ensure the continued safety of the equipment. Ensure trees, shrubs and other natural elements are looked after, too.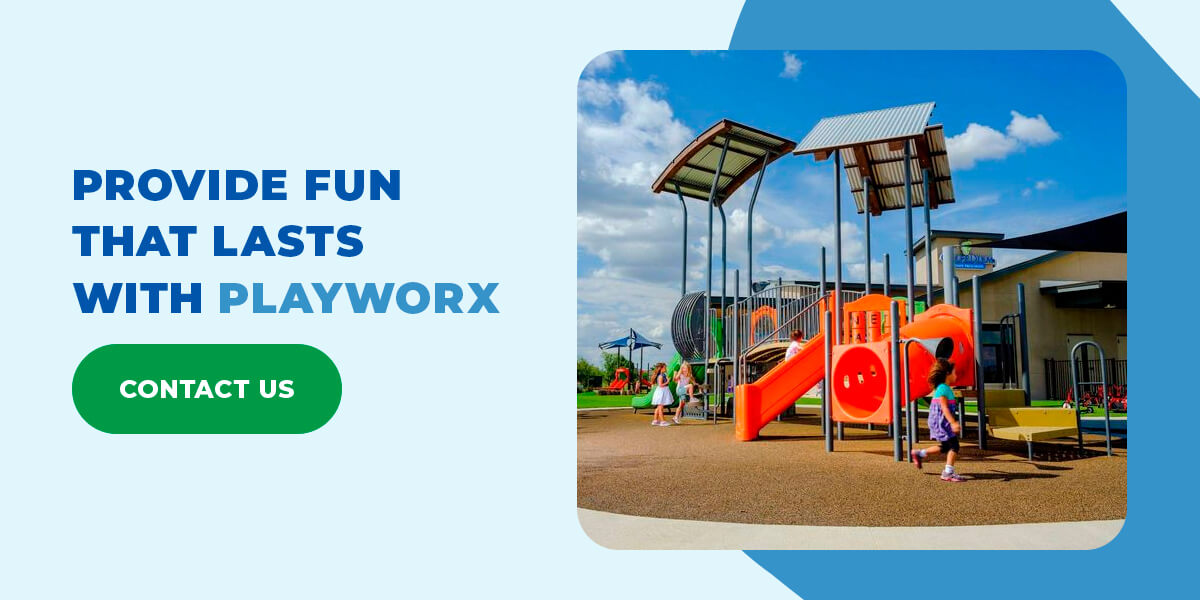 Provide Fun That Lasts With Playworx
Playworx has over 20 years of experience designing, installing and maintaining playgrounds for communities across Georgia and Florida. Our team will take the time to understand your unique playground needs and help you design a playground that can provide endless fun for your community.
Browse our playground equipment catalogs or contact us for a free estimate today!